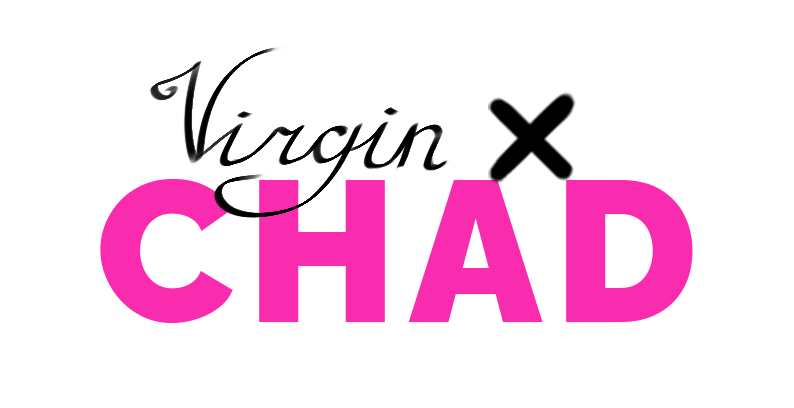 Virgin X Chad
A downloadable game for Windows and macOS
TW: bullying, adult language, nudity

Ah, the ever loved meme of Virgin Vs. Chad in which a dorky nerd man pits his skills against the ultimate alpha male figure, and finds himself severely lacking. At two opposite ends of the spectrum, these two men must navigate the stressful world of college, graduation, and their own budding relationship.
Chad is a senior, desperately trying to graduate next spring, but he's got a lot of work to do to get there. School was never his favorite place, and he's already on track to fail chemistry miserably. Again. If only life could be as simple as a wrestling match, or a baseball game, or football...
To make matters worse, his gorgeous girlfriend has broken up with him! Chad is floundering until he meets Virgil...
Virgil Morehead is a freshman and is hellbent on getting a 4.0. He's got everything planned out, and nothing to distract him from his goal. Virgil is an introvert, he doesn't have to worry about being distracted by parties, or friendships, or romantic interests...As long as he can keep to himself, everything will go his way.
Enter Chad Thundercock, who has been paired up with him for the rest of the semester for his chemistry lab. Chad is a threat to his GPA, and his heart. When some old High School bullies start picking on him again, Chad makes an offer that Virgil cannot refuse...
But if he accepts Chad's offer, Virgil might lose more than just his heart...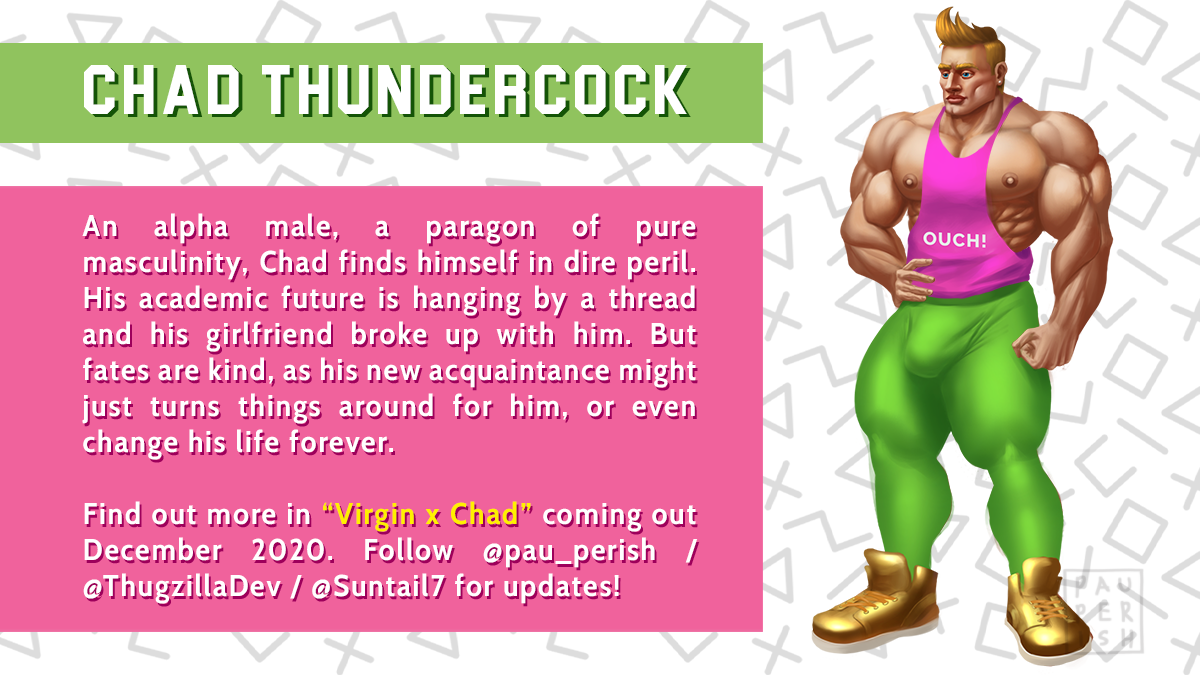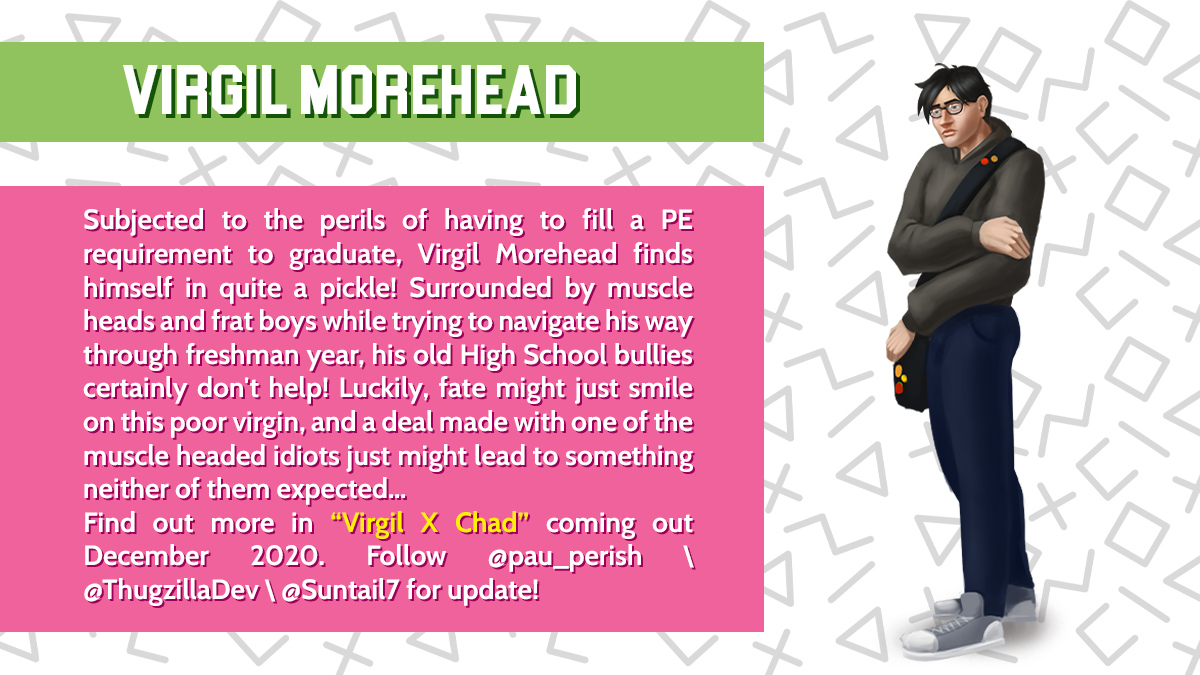 This game was created for Barajam 2020
It is currently a Demo, but a full Visual Novel will follow sometime in the Spring/Summer of 2021!

Story written by: Robin Harper (Suntail7) Twitter

Art, GUI & Backgrounds (texturing and lighting) by: Pau Perish (HeyPau) Twitter

Programming and Backgrounds by: Thugzilla (Thugzilla) Twitter
Composing by: Dororo Twitter
Follow us to hear about all the latest updates for this game!
Disclaimer: Characters and story, while inspired by the Virgin X Chad meme, are the interpretations of our creative team.
Download
Click download now to get access to the following files:
VirginXChad-mac.zip
41 MB
Comments
Log in with itch.io to leave a comment.
Has this VN been abandoned?
Not at all :) we're finishing up on backgrounds and the coding! It's my first game so I'm a little slow, my apologies!
wtf i love it? dude you art is good.... and wow
Liked what I've seen. This VN has promise, can't wait to see more! Keep up the good work! :)
Thank you so very very much!! =D We have lots of fun story planned so we will definitely keep working on it!!
Good to know. Do you have planned to include NSFW in the VN?
Indeed we do :) there will be NSFW scenes in the VN!